Is this a bad time for a festive story? Yes,
Staggering Stories Podcast 311: An Earthly Marvel
is now available!
We cover:
Doctor Who: An Earthly Child.
Doctor Who: Relative Dimensions.
Captain Marvel (2019 film).
Flotsam and Jetsam.
Plus, as ever, lots of news (Game of Thrones, Button Man, unfired Gunns and more).
More madness than one day coming back.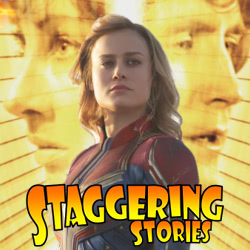 Available on
iTunes
and
most other major podcast directory
sites or via direct
RSS Feed
.
We also have a
Staggering Stories Facebook group
.
You can drop us a line at
show@staggeringstories.net
or visit our
Main Site
or
Blog