Can we stand the confusion in our minds? Yes,
Staggering Stories Podcast 317: Dalek Resurrections and Apocalyptic Revelations
is now available!
We cover:
Doctor Who: Resurrection of the Daleks.
Good Omens (miniseries).
30 Second Recommendation: Chernobyl.
Plus, as ever, lots of news (Doctor Who, The Good Place, sleeping through a film career and more).
More madness than a demonic Tenth Doctor and an angelic House!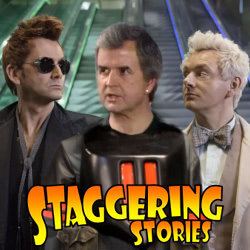 Available on
iTunes
and
most other major podcast directory
sites or via direct
RSS Feed
.
We also have a
Staggering Stories Facebook group
.
You can drop us a line at
show@staggeringstories.net
or visit our
Main Site
or
Blog