Do we dread tachyons? Yes,
Staggering Stories Podcast #427: Unstuck in Time
is now available!
We cover:
Doctor Who: Once and Future: A Genius for War (Big Finish)
Babylon 5: The Road Home
Plus, as ever, lots of news (Doctor Who, Disney+ physical media, more plastic sonics and more).
More madness than revisiting The Hybrid?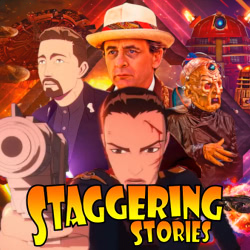 Available on
iTunes
and
most other major podcast directory
sites or via direct
RSS Feed
.
We also have a
Staggering Stories Facebook group
.
You can drop us a line at
show@staggeringstories.net
or visit our
Main Site
or
Blog