Are we back? Yes,
Staggering Stories Podcast #403: The Shatner Frontier
is now available!
We cover:
Torchwood: God Among Us, Vol. 1 (Big Finish).
Star Trek V: The Final Frontier.
Plus, as ever, lots of news (Doctor Who, Star Wars, The Witcher, foam projectiles and more).
More madness than William Shatner climbing a mountain?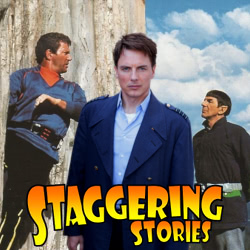 Available on
iTunes
and
most other major podcast directory
sites or via direct
RSS Feed
.
We also have a
Staggering Stories Facebook group
.
You can drop us a line at
show@staggeringstories.net
or visit our
Main Site
or
Blog