Is everyone locked up for six episodes? Yes,
Staggering Stories Podcast #344: Jo Grant - Ninja Hero
is now available!
We cover:
Doctor Who: Frontier in Space.
Blake's 7: Warship (Big Finish).
Game: Things in Five Words.
Plus, as ever, lots of news (Doctor Who, DC, mouthy heads and more).
More madness than the Master's space collar!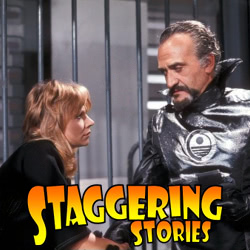 Available on
iTunes
and
most other major podcast directory
sites or via direct
RSS Feed
.
We also have a
Staggering Stories Facebook group
.
You can drop us a line at
show@staggeringstories.net
or visit our
Main Site
or
Blog