Have we suffered from spectrox toxaemia? Yes,
Staggering Stories Podcast #360: The Caves of 1984
is now available!
We cover:
Doctor Who: The Caves of Androzani.
Wonder Woman 1984.
Plus, as ever, lots of news (Doctor Who, outdated product placement, another fallen Babylon Fiver and more).
More madness than finally explaining that celery!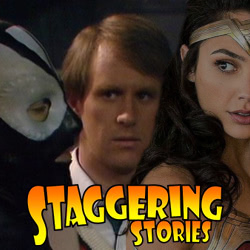 Available on
iTunes
and
most other major podcast directory
sites or via direct
RSS Feed
.
We also have a
Staggering Stories Facebook group
.
You can drop us a line at
show@staggeringstories.net
or visit our
Main Site
or
Blog