Enough for a year yet? Yes,
Staggering Stories Podcast #365: One a Day Keeps the Irregulars Away
is now available!
We cover:
Doctor Who: The Crimson Horror.
The Irregulars (Netflix, first season).
Plus, as ever, lots of news (Blake's 7, Star Trek, geriatric adventurers and more).
More madness than changing the world of Holmes beyond all recognition!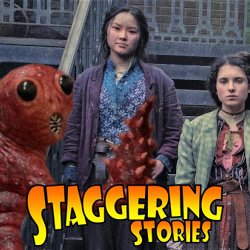 Available on
iTunes
and
most other major podcast directory
sites or via direct
RSS Feed
.
We also have a
Staggering Stories Facebook group
.
You can drop us a line at
show@staggeringstories.net
or visit our
Main Site
or
Blog