Are we down and safe? Yes,
Staggering Stories Podcast #343: The Evil Hand of Andy Pandy
is now available!
We cover:
Doctor Who: The Hand of Fear.
Blake's 7.
30 Second Recommendation: Snowpiercer.
Plus, as ever, lots of news (Doctor Who, Wonder Woman, return of a green baby and more).
More madness than the Doctor going to an actual quarry!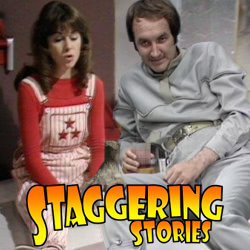 Available on
iTunes
and
most other major podcast directory
sites or via direct
RSS Feed
.
We also have a
Staggering Stories Facebook group
.
You can drop us a line at
show@staggeringstories.net
or visit our
Main Site
or
Blog