Can we talk over Babylon 5 for you? If yes, then the
Staggering Stories Audio Commentary #208: Babylon 5 - The Fall of Centauri Prime
is now available!
Mollari has a fetching new outfit that he doesn't want, Delenn and Lennier are wrecked and Vir suddenly has a large supply of Ferrero Rocher. But enough of their problems, please sit down with us to enjoy The Fall of Centauri Prime…
Could it be more madness than a Centauri trying to wear a crown with that hair?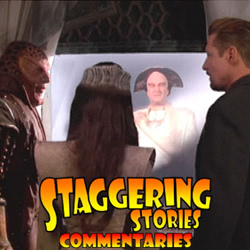 Available on
iTunes
and
most other major podcast directory
sites or via direct
RSS Feed
.
We also have a
Staggering Stories Facebook group
.
You can drop us a line at
show@staggeringstories.net
or visit our
Main Site
or
Blog