Must Eldrad do something? Yes,
Staggering Stories Podcast 285: A Lady, a Panther and Eldrad...
is now available!
We cover:
Doctor Who: Eldrad Must Die! (Big Finish).
Doctor Who: The Lady of Mercia (Big Finish).
Marvel: Black Panther.
Plus, as ever, lots of news (Moomins, Star Wars, tickling sticks, ninjas and more).
More madness than regrowing from a discarded toenail clipping!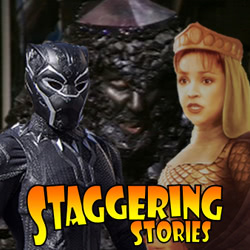 Available on
iTunes
and
most other major podcast directory
sites or via direct
RSS Feed
.
We also have a
Staggering Stories Facebook group
.
You can drop us a line at
show@staggeringstories.net
or visit our
Main Site
or
Blog